One of our most-favorite ads this holiday season is for DSW and proudly proclaims they will NOT be open on Thanksgiving Day. We applaud them and wish other retailers would follow suit. In the quickly evolving, instant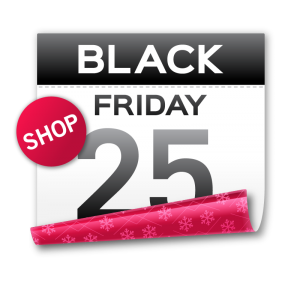 gratification that technology has afforded us, we've lost track of the simplicity of doing nothing. Thanksgiving should be a day when you get to choose what you want to do: eat turkey, watch football, hang with family and friends. But the train moves forward…next stop Black Friday.
Black Friday is that awe-inspiring day so many look forward to: getting up early (or not even going to sleep) in a quest to get the most sought after, desired toys-tools-electronics-equipment at the most rock-bottom price.
How did Black Friday come to be?
The 'official' history and meaning of Black Friday supports the accounting practice of being in the red (deficient) and in the black (turning a profit). The idea goes that the day after Thanksgiving, hordes of people rush to stores with gobs of cash and retailers finally get out of the red and into the black. There are also some other more sinister stories regarding Black Friday dating back to the mid-nineteenth century. However, the profit-driven story that celebrates the retailer's success is the one that stays.
Whether you're ramping up for a bargain shopping jamboree, or you're carefully curating a day of football and time with friends and family, one thing is for certain: Black Friday isn't for Turkeys.