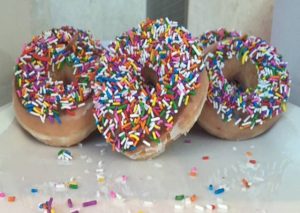 November 5th is National Doughnut Day. This is one of our favorite holidays – when our nation comes together to enjoy fried goodness.
How was the doughnut created? Who first invented it? Was it intentional or by chance? Amazing how fried dough can stretch a smile a mile wide.
It's said that the doughnut came to us via Holland and was originally called olykoeks–"oily cakes."  Should the name "olykoeks" persisted, this fried pastry might not have survived and National Doughnut Day wouldn't be the same as it is today.
Attendees at the National Association of Realtor®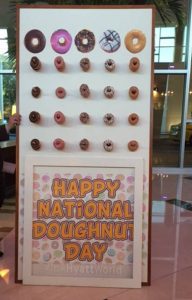 annual meeting were greeted with unexpected in the lobby of the Orlando Hyatt. What better way to start the morning than with a doughnut and a cup of coffee from the team at Hyatt Orlando.
The best brands do what's expected extremely well: a smooth check-in process, a clean room that meets the needs of the business traveler, helpful and friendly staff. An extraordinary brand does the unexpected. What better way to surprise and delight conference attendees and hotel guests than with doughnuts with a side of coffee.
In recent years doughnuts have come to enjoy couture status – everything from maple glazed doughnuts topped with pepper-spiced bacon to literary-inspired (or cereal embraced?) Captain My Captain doughnuts from Voo Doo Doughnuts (Portland, Oregon's favorite doughnutiere). Buying doughnuts from Voo Doo is a great customer experience. Especially when doughnuts are lined in a coffin. One thing is sure: no matter how you roll there's a doughnut for you.
National Doughnut Day is worth a visit to the Windy City'a best donuts Firecake Donuts. Firecakes is where your grandmother's kitchen meets designer flavors. Enjoy old fashioned favorites including a scrumptious buttermilk donut or reach for the islands and gobble up a coconut cream.
An apple a day might keep the doctor away, but a doughnut today is good medicine too.
#InaHyattWorld #NationalDoughtnutDay